Apple Sausage Sauerkraut Recipe
If you are looking for an easy, yet authentic meal during the fall season, you're in the right spot! Tis the season of apple picking and fall, this dish is filled with flavor and comfort! Today we will be featuring Buzz Savories Spicy Beer Mustard and Simply Sunflower Oil. We would also like to give a shout out to Buzz Savories for this amazing dinner recipe!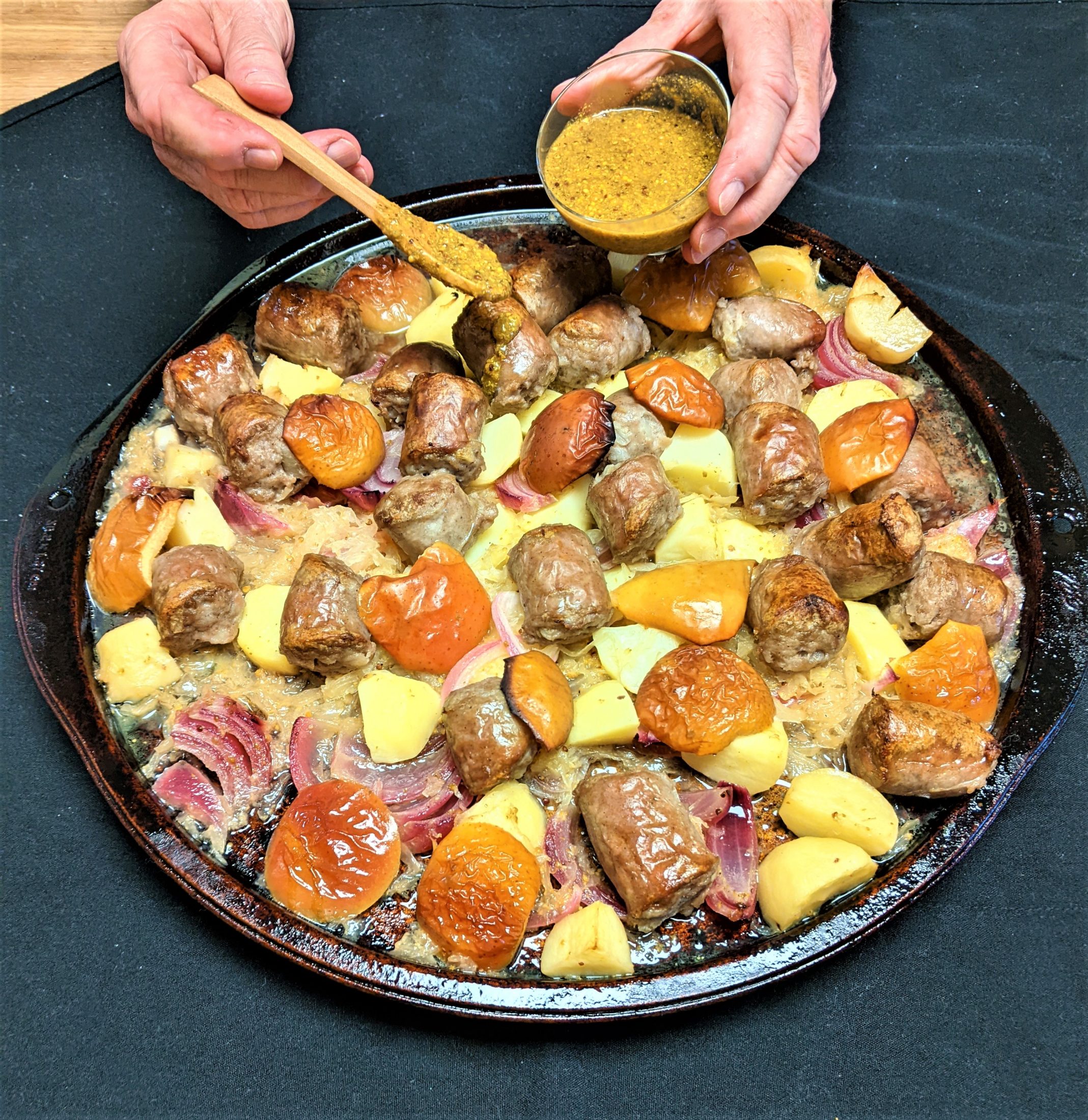 After retiring, Betty Sayers needed to find something to fill her empty hours. After taking a beginner's class for beekeepers, Betty knew it was a challenging career, but she knew it was her calling. With lots of courage and bravery, she opened a hive housing 30,000 bees in an abandoned pasture near Elm Creek, Nebraska. With so many bees and potential, the idea of making mustard popped into her mind and with the help of her neighbor and local brewer, the famous Spicy Beer Mustard was created. The Buzz Savories business has flourished into a successful company since then.

Alan Koelling, the mastermind of sunflower oil, became a farmer the minute he could walk. Through the years, to be a better steward of the environment, Alan began using sunflowers as a renewable energy source on the farm. From research, he discovered the handful of benefits that sunflowers provide. They are rich in Vitamin E and antioxidants, high in beneficial fats, and cholesterol and trans-fat free. Alan then decided to use his crop as a direct source for sunflower cooking oil. Simply Sunflower was then founded. They now sell in over 350 stores across America! 
What You'll Need: 
1 tablespoon

Sunflower Oil

2 cups sauerkraut, drain excess liquid 

1/2 sauerkraut liquid 

2 tablespoon

Buzz Savories Spicy Beer Mustard

1 lb. pork sausage, such as potato bologna, Polish, or any other you prefer. Cut into 1 1/2 - 2 inch pieces. 

1 medium red onion sliced in half moon pieces approximately 1/2 inch thick 

2 medium apples, unpeeled, cored, and cut into chunks

1 cup hard apple cider or fresh apple juice
Instructions:
Place sausages, onions, and sauerkraut in a bowl and toss with

spicy beer mustard

. 

Position a rack in the middle of the oven and preheat to 400 degrees. 

Oil a large, rimmed baking sheet with

Simply Sunflower Oil

and add sauerkraut, onions, sauerkraut mixture, and apple chunks

Flatten the vegetable mixture with a spoon 

Arrange the sausage pieces on top of the vegetable/apple mixture. 

Pour 1/2 cup of sauerkraut juice and 1 cup of apple cider or apple juice over everything. 

Roast for 20 minutes and then rotate the pan front to back and roast another 20 minutes or until sausages are brown and apples and onions are tender. 

Serve family style with crusty bread and additional

 

spicy beer

 

mustard

.
CHECK OUT ALL THE PRODUCTS AND RECIPES FROM BUZZ SAVORIES HERE!
---